Book Information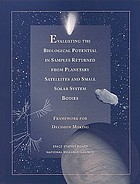 Evaluating the biological potential in samples returned from planetary satellites and small solar system bodies : framework for decision making
Publisher: National Academy Press
Keywords:
Planetary quarantine
,
Exobiology
,
Space microbiology
,
Quarantaine planétaire
,
Exobiologie
,
Microbiologie spatiale
,
SCIENCE Life Sciences Evolution
Language: English
ISBN:
9780585025421
,
0585025428
,
0309061369
,
9780309061360
Contents: Introduction-- Natural influx and cross-contamination -- Planetary satellites inside Jupiter's orbit -- Asteroids and meteorites -- Comets -- Cosmic dust -- Considering the potential risks from returned samples -- Conclusions and recommendations.
Summary: The National Academies offer "Evaluating the Biological Potential in Samples Returned from Planetary Satellites and Small Solar System Bodies: Framework for Decision Making." The study examines the potential risks associated with bringing samples from planetary satellites and small solar system bodies to Earth for study. The report was written by the Task Group on Sample Return from Small Solar System Bodies, a part of the Space Studies Board of the National Research Council (NRC).