Book Information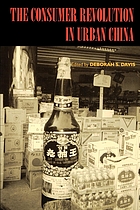 The consumer revolution in urban China
Publisher: University of California Press
Keywords:
Consumers China
,
Consumption (Economics) China
,
Consumer behavior China
,
Consommateurs Chine Congrès
,
Consommation (Économie politique) Chine Congrès
,
Consommateurs Comportement Chine Congrès
,
POLITICAL SCIENCE Economic Conditions
,
BUSINESS & ECONOMICS Economics Macroeconomics
,
Consumer behavior
,
Consumers
,
Consumption (Economics)
,
Consumentengedrag
,
Consumptie
,
Verbraucherverhalten
,
Kongress
,
Consommateurs Chine
,
Consommateurs Attitudes Chine
,
Consommateurs Préférences Chine
,
Consommation Chine
,
China
,
Chine Consommation
Language: English
ISBN:
0520921968
,
9780520921962
,
9780585323220
,
0520216393
,
0585323224
Contents: Revolution in consumption / Deborah S. Davis -- Inventing oasis : luxury housing advertisements and reconfiguring domestic space in Shanghai / David Fraser -- Commercializing childhood : parental purchases for Shanghai's only child / Deborah S. Davis and Julia S. Sensenbrenner -- What's in a dress? Brides in the Hui Quarter of Xi'an / Maris Gillette -- Revitalization of the marketplace : food markets of Nanjing / Ann Veeck -- To be relatively comfortable in an egalitarian society / Hanlong Lu -- Heart-to-heart, phone-to-phone : family values, sexuality, and the politics of Shanghai's advice hotlines / Kathleen Erwin -- Greeting cards in China : mixed language of connections and affections / Mary S. Erbaugh -- Of hamburger and social space : consuming McDonald's in Beijing / Yunxiang Yan -- Dancing through the market transition : disco and dance hall sociability in Shanghai / James Farrer -- Cultivating friendship through bowling in Shenzhen -- Gan Wang -- Cigarettes and domination in Chinese business networks : institutional change during the market transition / David L. Wank -- Public monuments and private pleasures in the parks of Nanjing : a tango in the ruins of the Ming emperor's palace / Richard Kraus -- Second liberation / Richard Madsen.
Summary: After decades of egalitarian, restricted consumption, residents of China's cities are surrounded by a level of material comfort and commercial hype unimaginable just ten years ago. In this first in-depth treatment of the consumer revolution in China, fourteen leading scholars of Chinese culture and society explore the interpersonal consequences of rapid commercialization. In the early 1980s, Beijing's communist leadership advocated decollectivization, foreign trade, and private entrepreneurship to jump-start a stagnant economy, while explicitly rejecting any notion that economic reforms would promote political change. However, by the early 1990s the reforms in the marketplace not only produced double-digit growth but also enabled ordinary citizens to nurture dreams and social networks that challenged official discourse and conventions through millions of daily commercial transactions. Using participant observation, contributors to this book describe and analyze a wide range of these changing consumer practices: luxury housing, white wedding gowns, greeting cards, McDonald's, discos, premium cigarettes, bowling, and more.