Book Information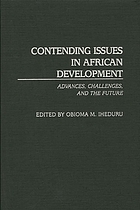 Contending issues in African development : advances, challenges, and the future
Publisher: Greenwood Press
Keywords:
POLITICAL SCIENCE
,
Public Policy / Economic Policy
,
POLITICAL SCIENCE Public Policy Economic Policy
,
BUSINESS & ECONOMICS Government & Business
,
BUSINESS & ECONOMICS Development Economic Development
,
BUSINESS & ECONOMICS Development Business Development
,
BUSINESS & ECONOMICS Structural Adjustment
,
BUSINESS & ECONOMICS Development General
,
Economic policy
,
Social policy
,
Wirtschaftspolitik
,
Sozialpolitik
,
Business & Economics
,
Economic History
,
Développement politique Afrique 1945-
,
Africa Economic policy
,
Africa Social policy
,
Afrique Politique économique
,
Afrique Politique sociale
,
Africa
,
Afrika
,
Afrique Politique et gouvernement 1960-
,
Afrique Politique économique 1960-
Language: English
ISBN:
0313001014
,
9780313001017
,
0313309612
,
9780313309618
Contents: Conflicts and convergence in African development thinking / Obioma M. Iheduru -- The political economy of state reconstitution in Africa / Kelechi A. Kalu -- The mass media and political stability in Africa: a utilitarian theory approach / Kingsley O. Harbor -- Africa between the Meiji restoration and the legacy of Atatürk: comparative dilemmas of modernization / Ali A. Mazrui -- Civil society and democratic development in eastern and southern Africa / Julius E. Nyang'oro -- The state and human rights in Africa / Julius O. Ihonvbere -- Democratization in sub-Saharan Africa: problems, advances, and prospects / Harold A. Fisher -- Prolegomena to an African-western ethics and theory of rights / Vincent J. Ferrara -- Toward democracy and security in Africa: what prospects exist for the sustainable development of civil societies? / Timothy M. Shaw and Sandra J. MacLean -- Nigeria: the dynamics of agricultural policy in a restructuring economy / Browne Onuoha -- Women and sustainable development in Africa / April A. Gordon -- Evaluation of the state of integration in Africa: how to strengthen the African economic community / Mouké Y. Yansané -- West African regionalism revisited: cooperative management of the Senegal and Gambia water resources / Nurudeen B. Akinyemi -- The politics of regional integration and development in Africa: issues, limitations, and prospects / Aja Akpuru-Aja -- Redefining the African state: political capacity in the post-reform era / Obioma M. Iheduru.
Summary: Annotation Taking a forward-looking approach, this book critically examines the issues and dynamics central to Africa's problematic development and situates these issues within the contents unique cultural, political, economic, and social milieu. Moving away from a simple litany of problems bedeviling Africa's economy, the book is the culmination of several scholars' efforts to identify specific causative factors. Each chapter delineates a specific issue, demonstrates the role it plays in overall development, and speculates on probable ways to meet the challenges it poses. The major conceptual and epistemological constructs considered include the tamed African State, social capacity, management of change, reconceptualized gender roles, and economic integration. Although the contributors' various approaches diverge and disagree, the epistemological variations contribute cumulatively to an understanding of the issues at the root of Africa's slow pace of development. While traversing the spectrum of issues that affect development, the book uniquely points out that the management of change is pivotal to fostering development. The authors' efforts provide a useful base for future research and help to chart a course of action leading to success in the 21st century.