Book Information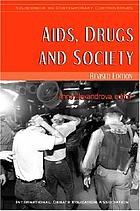 AIDS, drugs, and society
Publisher: International Debate Education Association
Keywords:
AIDS (Disease) Prevention
,
Intravenous drug abuse Health aspects
,
Drug addicts Health and hygiene
,
Drug addicts Diseases
,
Acquired Immunodeficiency Syndrome prevention & control
,
Health Policy
,
Human Rights
,
Substance Abuse, Intravenous
,
MEDICAL Preventive Medicine
,
MEDICAL Forensic Medicine
,
MEDICAL Public Health
Language: English
ISBN:
0972054189
,
1417575921
,
9781417575923
,
9780972054188
Edition: Rev. ed
Contents: Harm reduction: history, definition, and practice / by Diane Riley & Pat O'Hare -- The interconnected epidemics of drug dependency and AIDS / by Larry Gostin -- HIV/AIDS and the drug culture: shattered lives / by Elizabeth Hagan & Joan Gormley -- The control of drugs / by Michael Gossop -- Drug legalization, harm reduction, and drug policy / by Robert DuPont & Eric Voth -- To take up arms against the sea of drugs / by Alex Wodak -- Impact of legal and public policy measures to control drug use on human rights / by Norbert Gilmore -- Clinical progress and the future of HIV exceptionalism / by Ronald Bayer -- The Denver principles / by the Advisory Committee, the People with AIDS Coalition -- Statement of principles / by People living with HIV/AIDS, particupants of the International Conference "Care, Support, and Treatment for People Living with HIV/AIDS" (November 2002, Kiev, Ukraine) -- Interventions for injecting drug users / by Abu Abdul-Quader [and others] -- Injecting drug use in Moscow : results of a survey / Gabriela Paleru -- Injecting drug use and HIV in Moscow: results of a survey / by Brigg Reilley [and others] -- Strategies to improve access to sterile syringes for injection drug users / by Josiah D. Rich, Francis A. Wolf, & Grace Macalino -- From the Universal Declaration of Human Rights, Article 3, Article 19, Article 25 -- From the International Covenant on Economic, Social and Cultural Rights, Article 12 -- From the General Comment, No. 14 -- From the International Covenant on Civil and Political Rights: Article 9, Article 17, Article 26 -- From the International Convention Against Illicit Traffic in Narcotic Drgus and Psychotropic Substances, Article 14 -- HIV/AIDS and human rights: international guidelines -- Declaration of Commitment on HIV/AIDS, "Global crisis-global action" -- Stigma and Discrimination : definitions and concept infosheet.
Summary: Annotation "While providing background theory on harm reduction and pragmatic public health approaches to disease prevention, is focused on HIV/AIDS epidemic in the countries of Central and Eastern Europe and the Newly Independent States (CEE/NIS). This region now se."